Rosa Parks @ your library
Submitted by Megan McFarlane on Fri, 11/30/2012 - 17:24
Illustration:
Dec. 1 is Rosa Parks Day, commemorating the day when Rosa Parks simply told bus driver James F. Blake, "no," that she would not give up her seat to a white man.
In her autobiography, Mrs. Parks explained, "People always say that I didn't give up my seat because I was tired, but that isn't true. I was not tired physically, or no more tired than I usually was at the end of a working day… No, the only tired I was, was tired of giving in."
Celebrate Rosa Parks' spirit and determination not to give in with help from your local library.
Check out:
Rosa Parks: My Story, by Rosa Parks
Written with young people in mind, the autobiography details not only the her refusal to give up her seat that fateful day, but her work in the Civil Right Movement and work with the National Association for the Advancement of Colored People (NAACP).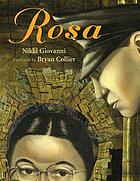 Rosa
by Nikki Giovanni, illustrated by Bryan Collier
This picture- book tribute to Mrs. Parks and celebration of her courageous action and the events that followed.
Dear Mrs. Parks: A Dialogue with Today's Youth
by Rosa Parks and Gregory J. Reed
A collection of children's letters to Rosa Parks and her responses. Rosa Parks shares her legacy of courage and wisdom, reminding young readers that their actions will determine the future.

Rosa's Bus
by Jo S Kittinger, illustrated by Stephen Walker
The story of an ordinary bus... until a woman named Rosa Parks refused to give up her seat which became a pivotal event in the Civil Rights movement. Follows the bus's history from the streets of Montgomery to the Henry Ford Museum.
Interactive:
Smithsonian.com while Parks' police report, fingerprint card and a diagram of the bus can all be found at the National Archives at Atlanta, the Smithsonian has provided and them as an electronically, annotated resource to share with your family.
Watch videos, checkout pictures and learn more about Rosa Parks at rosaparksfacts.com.
Facts about Rosa Parks:
In addition to working long hours as a department store seamstress, Parks spent her nights and weekends helping the NAACP as a secretary.
After her arrest Parks, NAACP and the Montgomery Improvement Association (MIA) began what would become known as the Montgomery Bus Boycott, which black people would boycott the buses until fair seating was arranged, changes were made to the way blacks were treated on the bus, and some black drivers were hired.
The president of the Montgomery Improvement Association was, at the time, a little known young Baptist minister named Dr. Martin Luther King, Jr.
In 1996, Parks was presented, by President Bill Clinton, with the Presidential Medal of Freedom. This is the highest honor that can be bestowed upon a civilian by the United States Government.
In 1999, Parks received the Congressional Gold Medal, it is considered the Legislative Branch equivalent of the Presidential Medal of Freedom.
In 1999, Time Magazine named Rosa Parks as one of the 20 most powerful and influential figures of the century.
In December of 2000, The Rosa Parks Library and Museum was dedicated on the campus of Troy University in Montgomery, Alabama.
When she passed away in 2005, Rosa Parks became the first woman ever to lie in state at the U.S. Capitol.
For ideas on how you can spend quality time with your children and teens learning about history, check out the Cultural Heritage section of the Connect with your kids @ your library Family Activity Guide.