Submitted by Megan McFarlane on Wed, 11/07/2012 - 12:38
Illustration:
Election Day is important to adults; it is a time when we choose leaders that will make important decisions that will affect us and our families. But how do we help teach children and teens about the importance of civic engagement?
Your local library is a good place to start. Libraries have long been referred to as the cornerstone of democracy, due to their role in providing free and equal access to information to all people.
Here are a few election-day programs that will be taking place in libraries across the country:

La Crosse (Wis.) Public Library will ask young readers the very important question: in a battle of shark vs. train, who would win? Inspired by the book Shark vs. Train, by Chris Barton and Tom Lichtenheld, the library has set up a space were children and their parents can read the book and then cast their. When children turn in their ballot, librarians give them a sticker, just like the ones adult voters receive.
Norwalk (Conn.) Public Library is hosting Kids Can Vote @ your library. Children are encouraged to vote from a list of literary character candidates provided by the library. Stuffed animals and dolls of the candidates will be raffled off to children who vote. In addition to voting, children can attend a special election day storytime and a screening of a short film about the presidents.
Louisville (Ky.) Free Public Library wants to remind area teens that 2016 isn't that far away when the choice of America's leaders will fall to them. In preparation, the library is hosting a mock election for teens. Teens will also have the opportunity to meet with one another and discuss the issues that are important to them.
Looking for a some good books to help engage your children in the election process? Check out these recommended titles:
Fiction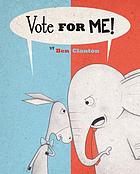 The Frandidate by Jim Benson
Bad Kitty for President by Nick Bruel
Duck for President by Doreen Cronin
Vote for Me by Ben Clanton
Addie On the Inside by James Howe
Max for President by Jarrett J. Krosoczka
The Ballot Box Battle by Emily Arnold McCully
Nonfiction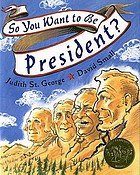 White House Kids: The Perks, Pleasures, Problems and Pratfalls of the Presidents' Children by Joe Rhatigan
Running for Public Office by Sarah De Capua
So You Want to Be President? By Judith St. George
With Courage and Cloth: Winning the Fight for a Woman's Right to Vote by Ann Bausum
I Wish I Knew That U.S. Presidents: Cool Stuff You Need to Know by Patricia A. Halbert
Web resources
Mock elections
National Student Mock Election
Activities
For ideas on how you can spend quality time with your children and teens, check out the Passion for Service section of the Connect with your kids @ your library Family Activity Guide.