Free Comic Book Day, everyday @ your library
Submitted by Megan McFarlane on Fri, 05/04/2012 - 08:50
Illustration:
This weekend is a big one when it comes to comics, with both the opening of The Avengers movie and Free Comic Book Day.
But why can't every day be Free Comic Book Day? It can be, at your library.
Recently, the Association of Library Services to Children (ALSC) released a recommended list of graphic novels for children in grades K-8.
Here are a few of our favorites we recommend sharing with your kids:
Grades K-2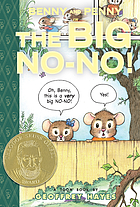 Benny and Penny in the Big No-No! by Geoffrey Hayes
Two mice meet their new neighbor and discover that she is not as scary as they feared. First of the Benny and Penny series.
Captain Raptor and the Space Pirates by Kevin O'Malley and Patrick O'Brien. illus. by Patrick O'Brien
In his second action-packed adventure, Captain Raptor, a superhero and a dinosaur, arrives just in time to save his planet from space pirates. One of the Captain Raptor series.

Hamster and Cheese by Colleen Venable. illus. by Stephanie Yue
Sasspants the guinea pig and his sidekick, Hamisher the hamster get to the bottom of the case of the missing sandwiches. First of the Pet Shop Private Eye series.
Korgi: Book 1 by Christian Slade
Ivy and her Korgi cub Sprout learn some amazing things about themselves as they encounter danger and adventure in Korgi Hollow. First of the Korgi series.

Little Mouse Gets Ready by Jeff Smith
Little Mouse hurries to get ready for a trip to the barn, carefully dressing himself piece by piece until his mother reminds him that mice don't wear clothes.
Owly: The Way Home & The Bittersweet Summer by Andy Runton. Top Shelf Productions, 2004. ISBN: 9781891830624.
Owly, a kind, lonely owl, helps and then befriends first a worm and then a pair of hummingbirds in these two nearly wordless stories. First in the Owly series.
Grades 3-5


Adventures in Cartooning: How to Turn Your Doodles into Comics by James Sturm, Andrew Arnold and Alexis Frederick-Frost
An amazing adventure as well as a tutorial into the basic elements of cartooning, this is fun and unique.
Bone: Out from Boneville by Jeff Smith
The adventure starts when cousins Fone Bone, Phoney Bone, and Smiley Bone are run out of Boneville and later get separated and lost in the wilderness, meeting monsters and making friends as they attempt to return home. First of the Bone series.

Knights of the Lunch Table: The Dodgeball Chronicles by Frank Cammuso
Arthurian legend reimagined for middle grade readers. Artie King finds that making enemies at Camelot Middle School is a lot easier than making friends when he challenges the Horde to a game of dodgeball. First of the Knights of the Lunch Table series.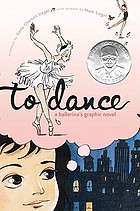 To Dance: A Ballerina's Graphic Novel by Sienna Cherson Siegel. illus. by Mark Siegel
A young dancer tells about her passion for ballet from her first dreams at the age of six through all her years of dance lessons.
Zeus: King of the Gods by George O'Connor
The story of Zeus adapted nicely to graphic format. First in the Olympians series.
Grades 6-8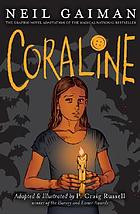 Coraline by Neil Gaiman. illus. by P. Craig Russel
When Coraline steps through a secret door in her house, she finds a marvelous new world much better than her own. However, when her "other mother" wants to keep her there forever, she must use her wits and the help of an all-knowing cat to return to the real world, in this graphic novel version of Gaiman's popular title.
Houdini: The Handcuff King by Jason Lutes and Nick Bertozzi
In bold graphics, and drawing on respected sources, author and artist formulate a living picture of this greatest of Americans and show how time and morals shaped him and his art.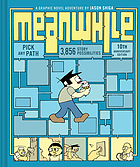 Meanwhile by Jason Shiga
Jimmy explores the lab of a mad scientist in this "Choose Your Own Adventure" style graphic novel
Rapunzel's Revenge by Shannon Hale and Dean Hale. illus. by Nathan Hale
Two traditional fairy tales—"Rapunzel" and "Jack and the Beanstalk"—merge in a fresh and funny adventure with a Western flair.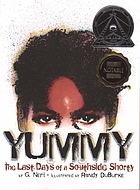 Yummy: The Last Days of a Southside Shorty by G. Neri. illus. by Randy DuBurke
Based on true events, this graphic novel, told through the eyes of a younger boy, tells the story of Robert (Yummy) as he tries to navigate the dangerous world of a Chicago neighborhood.
For the complete list of recommended graphic novels, visit the ALSC website.

The Avengers opens on Friday, May 4. The movie is based on Avengers, issue #1. The movie will see the reappearance of characters from the popular Marvel movie franchise including Ironman, The Incredible Hulk, Captain America and Thor, joining together to form the super hero team The Avengers. The movie is rated PG-13.
Saturday, May 5, is Free Comic Book Day, an annual celebration when participating comic book stores give away select comic books absolutely free to anyone who comes into their shops. Comics available on Free Comic Book Day are available for a variety of age groups. To check out the list of available comics, or to locate a participating comic book store in your area visit the Free Comic Book Day website.
For more ideas on reading with your kids, check out the "Reading Together" section of the Connect with your kids @ your library Family activity guide.